by Con Chapman
Lifestyles Editor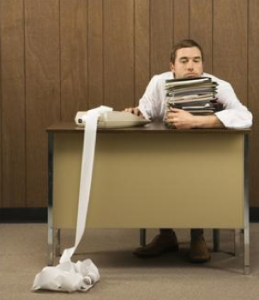 COLUMBIA, Mo. Charles Simi is usually calm as he lectures up to two hundred students in survey courses at Plattsburgh College, an upstate New York liberal arts school, but tonight he's dripping flop sweat just looking at his image in a mirror.
"Believe me, this is the greatest honor that a college instructor can hope to win," he says as he straightens his bow tie. "This was a career year for me, and it would be great to have that little trophy in my office."
Simi is referring to the American Association of University Instructors' Thorstein Veblen Award for Distinguished Indifference to Education, affectionately called "Thorsteis," a prize given annually to the undergraduate instructor who does the least to help his or her students master required course material.
"You'll see the stars come out tonight," says program emcee Donald Van, a local television personality in this college town of 115,000 which economist and sociologist Thorstein Veblen referred to as a "knothole of a town in a stump of a state" when he taught at the University of Missouri here. "There's last year's winner," Van says with excitement as he spots Egon Coelho, a Bradford College professor who schedules office hours on the fifth Tuesday of each month if accompanied by a valid over-the-road heavy equipment license. "That guy knows how to keep undergrads at arm's length, unless they're willing to trade sexual favors for face time."
Veblen taught at Stanford and the University of Chicago in addition to "Mizzou," and at each stop he succeeded in discouraging students by lecturing out classroom windows or requiring them to hop on one foot and make a noise like their favorite animals when answering questions.
"I believe Professor Veblen is not suited for teaching," one student wrote in a end-of-semester faculty review. "He clips his fingernails in class, which gives coeds the fantods."
In addition to Simi, this year's finalists include Cynthia Peck, a Danville College creative writing instructor who insists that all her classes be conducted in pig Latin, and Michael Adamick, an introductory physics professor who alienated some members of his Seminar in Quantum Mechanics by shooting off bottle rockets during an open-book exam.
The votes have been tabulated and the AAUI's Executive Director, Clayton Grealy, steps to the microphone to make the announcement. "This year's winner," he says, "has established a 'new normal' that blasé faculty members of the future will look back on as a major inflection point. No longer will students be entitled to grades, much less guidance. They should count themselves lucky if they see their instructors across a crowded campus coffee shop and get a nod of the head when they go 'Yoo-hoo, Professor! Have you graded my mid-term yet? I've got a terminal disease and would like to know how I did in Stochastic Variables before I die."
A hush falls over the crowd as Grealy tears open the envelope. "The winner is," he intones portentously, "Charles Simi, for wearing a disguise while swimming laps at the campus athletic center to avoid detection by eager freshmen!"