by Brody K. Truce
Senior Staff Writer Emeritus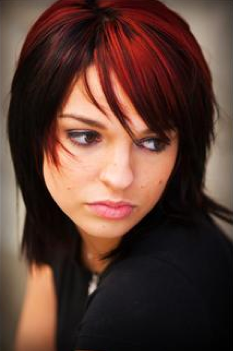 "I never thought it would come to this," said Samantha Talbert in a statement delivered from the Old Main steps at Bell Harbor University last Friday night. "This is some very devastating bullshit!"
On an evening when she should have been pre-gaming with her friends, Miss Talbert found herself receiving a guilty verdict from seven of her peers. A verdict of no bangs.
Since October of her freshman year, Samantha Talbert has been found responsible for a series of increasingly serious social crimes, including:
Forming a slut-shaming squad that operated only during the ladies swim team practice
Replacing all of the facial soap dispenser products with Crisco, resulting in #AcneGate2013
Repeatedly switching cafeteria signs for vegan chicken nuggets with regular chicken nuggets
Convincing upwards of four first-year students that she was blind in order to receive math test answers and extra servings of Cool Ranch Doritos
The final incident, which resulted in her appearance before the Bell Harbor Student Conduct Board, involved Talbert sponsoring a fictitious "locks for love" campaign for stray dogs with alopecia; nearly 30 of her floor mates were convinced to shave their heads just days before homecoming.
"It was a nightmare!" said Chelsea Sanchez. "There was hair everywhere. I had to buy a wig for the homecoming dance. I am hashtag scarred for life by that girl!"
Her peers unanimously found her guilty of the current crime, but reportedly levied a more severe sanction upon review of the other incidents in her file. As a result, Talbert was sentenced to Spring Semester without bangs after a review of her social media account indicated that she was, "SUPER pumped about getting some bangs."
"Per the verdict of her peers, Samantha is to in no way alter her existing hair style for the remainder of the academic year," reported Dr. Alexandra Forsythe, Vice President of the Division of Student Affairs. "This specifically includes any haircut or style that would result in her having bangs, or the appearance of bangs."
Samantha will be required to report to the Dean of Students Office twice each week for an examination and measuring of her hair.
Close friends report that Samantha will partake in a self-imposed exile for much of the spring semester, citing the unreasonably harsh sanction. Still, many of her victims believe she got off easy. As one peer remarked, "She's lucky; I think they should've replaced her flatiron with an electric razor."