by Dr. Bob Schvinsky
Freelance Writer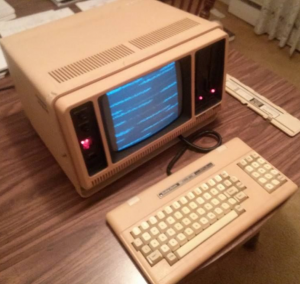 North-by-North-North-East College's (NbNNE) Western campus located in the absolute barren wilderness of Canada's far north is excited to release the 2011-17 Strategic IT Plan, calling for the complete removal of all computers and IT systems from its campuses.
IT staff were enthusiastically thanked for their loyal service by Carol Bottom, junior vice president of IT corporate systems, while she handed out layoff notices Monday morning.
"Regrettable," sniffed Betty Boone, vice president of finance. "However, the tech team wouldn't stop begging for money for system or equipment upgrades. Simply not sustainable."
With those never-ending requests for IT expenditures, NbNNE's President of Presidents Bart Bigablow, says he had an epiphany that it would save money to simply send all IT equipment to the town dump1.
According to CFO Melissa Bufferoo, "The amount of electricity that all this equipment required was scandalous and probably contributed to Canada's national blackout of 2004."
"This much-heralded return to the time-tested pedagogical model of the three-hour lecture will better prepare our students for the rigors of the working world," noted Distinguished Professor Jeremy Doremeier PhD PhD. "And, with paper essays, plagiarism will be a thing of the past. Our students don't even know where the library is, let alone how to find a hard copy of something to plagiarize."
Leaders say that since most administrators never really trusted computers, they have long maintained a duplicate paper system, so the transition should be smooth. Secondary benefits of the change include addressing chronic classroom shortages by retrofitting computer labs. Fewer birth defects are expected, attributed to 18-year-old slightly radioactive monitors (capital replacement budget for monitor upgrades was again deferred until next year).
One minor issue has surfaced. According to Stan Blocker, vice president of student security, with secret passwords written on the side of computers, and no one outside the IT department actually knowing how to delete computer files, all NbNNE student personal data was inadvertently released. Luckily, without NbNNE email, Blocker says that complaints are unlikely.
Staff union representatives have voiced support for the strategy, noting the potential for increased membership. Clerks themselves were jubilant, expressing relief that they would no longer serve merely as junior stenos or PowerPoint formatters for the technically challenged.
As an unexpected windfall, NbNNE received a sizable tax deduction by donating the IT equipment to the National Archives of Canada, whose new exhibition – Computers Through the Ages, opens next month. "Haven't seen stuff this old in decades!" one government archivist chuckled, "Even on E-bay!"
__________________________________________
1 Sadly, efforts to donate NbNNE's used IT equipment were met with laughter; Goodwill store staff claimed that they weren't even born when computers were originally purchased.