by Brody K. Truce
Senior Staff Writer Emeritus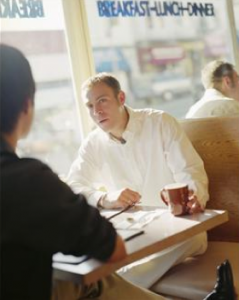 When human resource director Latrina Kushman hired two openly gay employees last fall, college leaders were reportedly ecstatic.
"There was a sense of excitement on campus that we hadn't had in the past," Kushman explained from her office in Weir Commons. "For as long as I've been here, we haven't had any openly gay employees."
Kushman reported that campus officials felt "left out" at conferences when they saw colleagues at other schools with their gay friends. "Gays are the life of the party at conferences. They like to dance and have a good time. They know the best martinis to order. And they're always complimentary of a woman's blouse or her shoes. We wanted that here at Parker Gates College."
When Kyle Smoker and Ben Dorenkamp where hired in October, administrators at Parker Gates rolled out the red carpet. Literally.
"We made their new employee orientation just like a red carpet event that you see on E! News," recalls Sandra Blackwell, an admissions counselor. "I think we were all hoping they'd sort of take over from there. I was hoping for some help redecorating my office."
But that didn't happen. Smoker and Dorkenkamp apparently did the unexpected—they went about doing their jobs in a completely non-gay way. College officials were allegedly disappointed that their two new gay employees aren't gay enough.
"We were hoping for something like 'Queer Eye' or that guy from 'America's Next Top Model.' Instead, we got two sort of boring guys. They're all business."
Smoker and Dorenkamp were unavailable for comment. The college's human resources department reports that they have not completely given up on their recruiting efforts, citing a recent lesbian candidate.
"She drives a Jeep and wore a pant suit to the interview," explained Kusman, with a twinkle in her eye and a knowing smile. "I think this one definitely has potential."