by Brody Truce
Senior Staff Writer Emeritus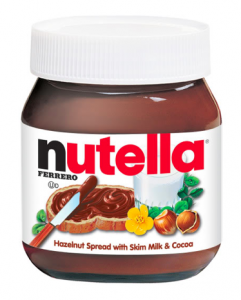 PENNSBORO, CT Before last week, Felicity Weaver—a freshman at Chestnut View College—had never even heard of Nutella.
"I know it sounds like something you won't like," said Weaver when interviewed earlier this week. "But it is AMAZING! Have you tried it? They say sometimes you find your passion where you least expect it when you go to college, and I really believe that now."
According to friends, the 18-year-old from Mission Pines, NV can think or talk about nothing else.
Weaver has commited herself to using her newfound passion to make the world a better place, as she learned she should do in her Intro to Social Equity class.
"I've started a petition demanding that the college make Nutella available in every dining outlet, vending machine and dorm lounge on campus," said Weaver. "Starting this Saturday, I'm putting together a weekly community service initiative to bring Nutella to the poor people who have never had a chance to try it before. A week ago, I was one of those poor people."
"Up until last week, she was a normal, fun girl," recalls Felicity's roommate Rebecca. "But it's like Nutella has taken over her life. It's all she eats, all she talks about. She's been Snapping about Nutella all morning. Don't let her find out you've never tried it or she'll add you to her 'Let Us Nutell-ya' list for future indoctrination into her cult."
College officials, concerned by the obsessive behavior, are poised for an intervention.
"We've seen this sort of behavior before," explained Dr. Jada Voslinger of the Counseling Center. "We had a 'Scandal' intervention for two student last fall, a Tutting intervention during spring semester, and we have regularly scheduled Candy Crush interventions for students, faculty and staff."
Although this will be her first time leading a Nutella intervention, Dr. Voslinger is confident that the underlying methodology will be the same.
"We'll use a 'surprise intervention' model similar to what you've seen on shows like 'How I Met Your Mother,' followed by an involuntary 48-hour Nutella detox in the dollhouse." According to students, the dollhouse is the Counseling Center's recently remodeled attic crawlspace.
Hours before the intervention, as friends and administrators gathered to plot her intervention, Weaver was still enthusiastic about her future with Nutella.
"I can't wait to see what I'll eat it with next," she said. "The possibilities seem infinite."