by Matthew Javidi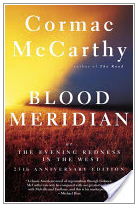 Calling it a harrowing portrait of the evil inherent in man, local college student Jacob Kosenko finally finished reading Cormac McCarthy's Pulitzer Prize-winning novel Blood Meridian, the book Kosenko lists as his "all-time favorite" on his OkCupid and Tinder profiles.
Sources report that Kosenko first listed Blood Meridian, a 327-page book, as his favorite novel since reading the first two chapters of over a year ago. Since then, each time a date asked him about his thoughts on the novel, he would draw from his reading of the book's first fifty pages.
"What a disturbing tale!" Kosenko reportedly exclaimed after finishing a book that he has claimed to "adore" for approximately two years. "That last line was so haunting, it gave me chills."
"And I can't believe what happened to Glanton!" added Kosenko in reference to a character whom Kosenko did not know was crucial to the novel's plot until months after listing Blood Meridian on his profile's section of favorite books.
According to eyewitnesses, Kosenko's knowledge of what he claimed to be the best book he'd ever read seemed thin at best. "I actually wrote my senior thesis on Cormac McCarthy," said Alison Sanchez, who months earlier went on a blind date with Kosenko after seeing his profile on OkCupid. "I asked Jacob about his thoughts on the Judge's monologue in the novel's denouement, but he just kept calling the passage with the Apache [from Chapter 2] 'sick as fuck.'"
"He did, however, seem to know a lot about the show Entourage," added Sanchez. "I'm pretty sure he's seen every episode multiple times."
Having finished the novel, Kosenko still claims Blood Meridian as his favorite book with Fight Club as a close second, despite having only seen the 1999 film.
Matt Javidi is the founder and editor-in-chief of the satirical news magazine Gaucho Marks. He has taught the "Contemporary American Satire" Colloquium at UC Santa Barbara.