by Con Chapman
Lifestyles Editor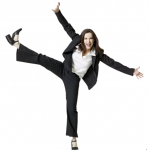 KALISPELL, Montana. They are, to hear them tell it, the most unloved of all academics. "The English professors get laid, the economics guys moonlight as consultants," says philosophy professor Normand Treacher. "But us?" he says as he looks at his rust-riddled 1994 Toyota Camry, "nobody cares whether we tell them what the good life consists of, even if we could."
Given their lack of leverage, agitation on the part of the Philosophy Department here takes on more subtle forms. "We know we're not going to get a big fancy laboratory like the Physics Department," says Michael Bogdanov, a specialist in Kant. "So we settled for a representative on the cheerleading squad."
"It was a cheap and easy fix," says Western Montana State President Rolf van der Loo. "They get to nominate three women, and we pick the one who's least unsociable."
The winner of that low-bar competition is Susan Yanow, who's writing her senior thesis on Arthur Schopenhauer, generally considered to be the most pessimistic philosopher of all time. "It's not even close," she says with a deadpan expression. "He makes the Cynics look like a Boy Scout troop at a theme park."
The other Goat Girls, as the school's cheerleaders are called, at first resisted the fact that Yanow didn't have to perform cartwheels in order to gain a coveted spot on the squad. "She's okay, I guess," says Cindy Karispelian, a home economics major. "Somebody should tell her that black turtlenecks aren't a good idea if you have dandruff."
The Goat Girls rotate head cheerleading duties democratically, and it's Yanow's turn to lead the squad in a home basketball game against Idaho Christian College, a warm-up for Western Montana's more rigorous conference schedule. "I plan to sow seeds of doubt in their minds," she says, as Idaho Christian forward Kyle Oberg sinks the front-end of a one-and-one with the game tied and five seconds on the clock:
You think that you made that free throw?
The senses are unreliable, you know.

Oberg turns towards the Goat Girls with a look of consternation on his face, his self-confidence faltering for the first time in a career that began fifteen years ago in a church league. He turns back to the line, and Yanow messes with his mind again:
 Why stall for time by bouncing the ball?
Human effort is doomed to fail, after all.
Oberg clangs the ball off the front of the rim, and Mountain Goats forward Tyrone Biggs grabs the rebound and throws a court-length pass to a teammate who lays it in for a last-second victory.
Mountain Goat assistant coach Dwight Samet comes over to congratulate Yanow, who takes it all in stride. "Negativity is underrated," she says modestly. "It can be a very positive force."