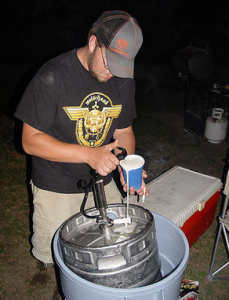 Penn State-Butler's new model of staff training for orientation counselors is getting attention from around the nation. In response to faculty pressure, PS-B hopes to set a new standard in allowing students an appropriate balance of learning and personal reflection.
"On of the biggest complaints we receive about our orientation program is that we keep students too busy," said Director of Extracurricular Learning Peggy Garrett. "The students get tired and don't have a chance to embrace the life-changing learning they're experiencing."
PS-B will pilot the reflection model this fall in hopes of presenting conferences sessions about the success next spring.
"It's pretty great," said Orientation Counselor (OC) Matthew Kolcharno. "We go to a few workshops during the afternoon then have the whole night to party and we get to sleep in the next day."
"I highly prefer the new model," said freshman Cherie Esher. "I've already gotten invitations to ten fraternity parties! My friends at other schools have to go to 'healthy' activities at their orientations, but I'm going to meet the upperclassmen and get my first experience with a kegstand."
"It's undeniable that the student staff has embraced the learning potential of this new program," said self-appointed orientation consultant, Professor Doris Botens. "A few concerns have been raised by local neighbors about the decision to eliminate organized social activities during the evenings but we can't let the negative anti-change brigade dictate our learning outcomes."
Professor Frederick Wiley agrees.
"We've been told that colleges that don't provide enough safe activities at night during their orientation programs have more students in danger of date rape and alcohol overdoses," said Wiley. "I say, treat students like adults and they'll act like adults."
"What do I hope to learn in my personal reflection time?" pondered Esher. "That's a deep question. I may need to skip the afternoon's training workshops to give that some more thought. The hot guy from Sigma Nu seems like just the right person to talk it over with."