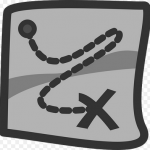 Administrators from six different departments at Constantine College have called a temporary truce to their battle for the right to call their fall programs a "Journey to ___."
"We need to go home for showers and food, but the war isn't over!" said orientation coordinator Willow Ivans. "If anything is a journey, orientation is! It's the journey from high school to higher learning. The symbolism is obvious."
"Give me a break. Metaphorically, a journey should be full of learning and challenge, not playtime at camp," said Dean of Philosophy Bradley Russell. "The new liberal arts curriculum 'A Journey through the Life of the Mind' is substantial. It's intellectual. It doesn't work without the word 'journey.'"
"We've used 'journey' since 'Glee' premiered in 2009," said student activities director Margaret Eecher. "Our a capella groups have sung 'Don't Stop Believing' for the last twelve pep rallies and our concert committee has tried for three years to invite Journey to campus. Our student leader 'Journey to Engagement' training has earned the right to 'journey' more than any other group at the college."
The Constantine Counseling Center provided trained mediators for the six departments vying for the rights to 'journey,' with no success.
"We tried offering other ideas, but every group was convinced that 'journey' was the only word that captured the uniqueness, creativity and innovation of their program," said counselor Marianne Nunn.
Volunteer arbitrators from the Constantine Law School have now offered assistance, but four of the departments have rejected arbitration as an option.
"Arbitration would create winners and losers, and we don't believe in that," said conduct officer Sharmini Wahl, from the team promoting "Journey to Justice" for the title of the new student handbook. "We believe in restorative practices in which everyone else would apologize to us for the delay. Arbitration would eliminate that option."
Public Safety has called in reinforcements "in case things get really ugly," said campus police chief Rodney Burrows. "We saw this happen in 1996 when everyone thought they couldn't live without 'Exploring Your _____. Let's just hope we don't see any casualties this time."