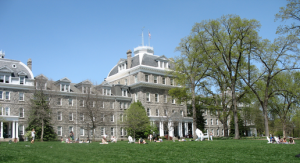 Trustees for Grant & Sherman College have ended their intensive strategic planning process by introducing a completely new institutional mission. According to the drafters, the statement reflects an honesty and reflectiveness ignored in prior versions.
When we asked each dean and department head what inspired them in their practice, nine out of ten of the leaders told us, "We look to see what our competitors get attention for and then we try to come up with some version of that ourselves. In this case, it seems like Swarthmore College's admissions data, national recognition and financial success are our benchmark. We've written our ten-year plan with a clear goal to try to keep up with Swarthmore's practices as quickly as we can.
Clear and simple, Grant & Sherman's new mission reads: "What is Swarthmore doing?"
Before making the decision to keep the mission simple, the trustees considered more complicated options.
"We visited the visionary leaders of Swarthmore to learn about their clear mission and practices," said Trustee Jefferson Clinger, who is also the CEO of Blackmore Battery Organics. "Their president and faculty told us that their mission encompasses the unique culture and traditions of Swarthmore and its dream of creating a better world through the altruistic leadership of its graduates."
"It's impressive and humbling to see that Swarthmore uses such intentionality in its practices, always trying to match its actions with its values," added Willfred Lauer, the trustee who wrote the final draft of the new Grant & Sherman mission. "Everything Swarthmore does has meaning and purpose."
"We considered using a similar process to craft our own vision of the future," said Clinger. "We talked about including students, faculty and staff in on-going conversations about values and character. We could spend a decade – a century – building a culture that everyone understands and contributes to."
"Thankfully, Swarthmore already did that," concluded Lauer.