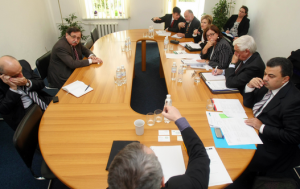 Members of the Cougar State University Multidisciplinary Curriculum Committee celebrated up its first year with energy and spirit rarely seen in committee settings.
"It's been a remarkable year," said Dean of Social Sciences Winslow Parsons, who chaired the committee. "We were given an ambitious charge to bring an end to the way our campus's academic departments have operated as individual silos instead of collaborative teams."
"Our committee worked tirelessly toward creating a model that more closely matches the real world in which students will have to work in teams with colleagues from all kinds of specialties," said committee member Rhonda Vitale, professor of engineering. "In fact, we modeled just that type of multidisciplinary team."
According to the end-of-year report submitted by the committee, the group spend the first six months of its meetings coming up with a common definition of "multidisciplinary" that they thought would appeal to the entire campus community.
"The conversations were long and heated," said Parsons. "For a couple months, we argued about the merits of changing the term to 'cross-disciplinary' which led to a philosophical study of the differences between the two terms. It was a brilliant example of using intellectual discourse bolstered by scholarly research that we can show as a meta-example of the importance of our committee."
During the second half of the year, the committee crafted and sent surveys to faculty and students to assess their awareness of multidisciplinary work and to measure the satisfaction with the committee's definition "work that encompasses multiple disciplines."
"We have collected all the data now, which was no easy feat," said Vitale. "Luckily, this was a team that committed to doing good hard work right until the end of the year."
In the coming year, the committee looks forward to studying the results of its survey and then tweaking the definition of "multidisciplinary" as needed.
"In January – and I know that seems soon, but I know we can do it – we will present our results of the survey and suggested definition to the campus in a series of town hall meetings," said Parsons. "For the remainder of the spring we will conduct focus groups with each individual department to see what they think of the term 'collaboration.'"
"After those focus groups, the hard work begins to come up with unique definitions of collaboration for each academic department on campus," said Vitale. "We have promised to honor the distinct culture of each academic discipline and we look forward to making that happen."
Can we expect any changes in the actual curriculum anytime soon?
"That's a fascinating question," said Parsons. "The word 'change' is quite complex and deserves a great deal of attention. If we just start talking about change before making sure we all agree what it means, we could dig ourselves into a terrible hole. I will add that discussion to our agenda for Year 4."