by Con Chapman
Lifestyles Editor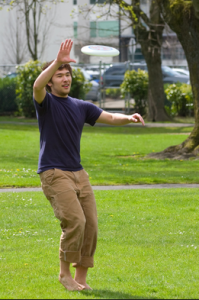 WORCESTER, Mass. It's a beautiful fall day in this, the second-largest city in New England, and students at Hall College relax on the quad in cool temperatures, watching the school's Ultimate Frisbee team playing the squad from nearby Worcester State College.
But on an adjacent greensward another group of students has found a happy medium between strenuous exertion and laid-back vegetating. "I'm pumped, but I'm not that pumped," says sophomore Aidan McReady as he casts a baleful look at the sweat-stained jerseys of the Ultimate Frisbee players.
McReady and his cohorts quit the Ultimate Frisbee team because that sport, once hailed as a countercultural alternative to rough collegiate games such as football and basketball, has become highly competitive in ways its inventors never contemplated.
"Dude—chill," says Mike Adamick, a fifth-year sophomore as Ultimate Frisbee player Todd Firke stumbles into him chasing down an errant throw. "You should try Penultimate Frisbee—it's slightly less ultimate."
"Penultimate Frisbee was devised so that guys who were nominally cool didn't get all bent out of shape over a stupid plastic disc," says team coach Malcolm Starr. "Any time things threaten to get too intense, we stop play to smoke a joint."
The term "penultimate" means "next to the last," and players in the new sport go at it at less than full speed to keep the game in perspective, according to Ray Mittleman, Commissioner of NEPUFA, the New England Penultimate Frisbee Association.
"We're seriously unserious because there are more important things in life than throwing around an aerodynamically-supported amusement device," he says after his team calls its fourteenth time-out in the first half. "I mean, you would never want to hurt your arm so bad you couldn't drink beer after a game."