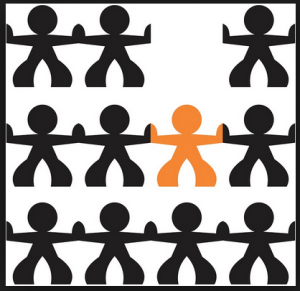 Wednesday morning, Goodwell College held the groundbreaking ceremony for its new Kaku Department of Individual Needs.
"For too many year's we've mindlessly followed the trend of lumping students together into stereotyped groups, ignoring their specialness as individuals," said Vice President of Student Life Joanie Hendricks. "As soon as the new building is completed, we will disband our Office of Multicultural Relations, Women's Center, First-Year Experience and any other area we deem harmful to the individual."
Twelve years ago, Goodwell alumnus Mikhael Kaku endowed the college with $10 million to build the center, stating that he hoped to see the edifice in place and functioning in time for his infant granddaughters to use the center when they were old enough to go to college. Kaku passed away last fall.
"Luckily, Mr. Kaku saw the philosophy of his gift take hold – and how!" said Hendricks. "We still haven't determined an actual design for the center because we are so focused on the individual needs of each of our students."
"My club needs space in the building," said junior Larissa Juno, president of the Student Activism Club. "I need an office with lots of windows for my house plants and my vice president needs a space with no light at all because of her migraines. Last year our treasurer needed a gluten-free kitchenette but this year's treasurer needs extra whole grains for his triathalon training."
"Larissa's club is just one example of the laser-sharp attention we're paying to individual needs," said Hendricks. "All 40 of the clubs who have been given space in the new building are going through the same negotiations."
Goodwell decided to hold the groundbreaking as a morale boosting event even though actual construction may be decades away. The ceremony took three years to plan.
"Several participants did not like wearing hard hats and those that did had different color preferences," said Hendricks. "Some are morning people and others are night owls. One found the dirt distasteful and another didn't like the symbolism of cutting a ribbon. I'm still not sure what that even means, but we held true to our value of the individual and made sure everyone's needs were met."
The Kaku family says they appreciate the efforts of the college to see Mikhail's vision become a reality.
"Father thought of the idea when my daughters spent a weekend with him and refused to eat what my parents served or share their toys," said Kaku's daughter. "He predicted that behavior was a sign of the times and wanted to be sure higher education was prepared to meet the needs of a new generation. So far, I would call his work a grand success."