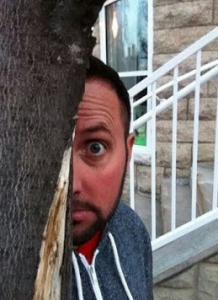 Renowned astrophysics theorist Professor Andy Yu Nohu Yooahr sought psychological treatment this week for acute paranoia disorder.
"I'm not ashamed to seek help," said Yooahr. "Mental illness has never run in my family and I've never had any problems before so I hope this is something I can tackle head-on."
According to a statement issued by Yooarh's publicist, the professor began to sense that someone was out to get him as soon as he accepted a new position in administration last year.
"He swears that he was named and blamed for numerous departmental and institutional problems at each staff meeting he attended," said the publicist. "To his knowledge, he has not been involved in any such problems, and he even approached the meeting facilitator directly to ask whether he had done anything wrong, but each time he was told everything was fine. Still, the accusations persisted."
Colleagues have expressed concern about Yooarh's over-sensitivity.
"Andy is a brilliant scientist and reliable administrator," said meeting chair Fenola Hale. "Even if he were doing something wrong I would never ever call him out by name. I never confront anything directly. I don't believe in that sort of belittling style."
According to Hale, the media have overreacted to Yooarh's condition.
"Not all the news channels are to blame. Just a few that I'm too kind to say," said Hale. "And…"