Dean Frederick Ray held a news conference today at Adams & Lee University to announce the promotion of Marcia Reardon as full professor in the Department of Political Studies.
"Today is a grand day for the Adams & Lee campus," said Ray. "We're incredibly proud to introduce Dr. Marcia Reardon as our first female full professor in the department. We couldn't be more proud of our gal's efforts."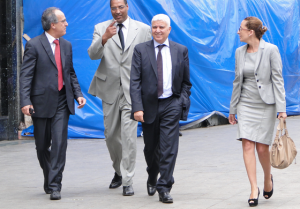 According to Ray, Reardon is a globally known scholar on issues of human justice and dignity and a courageous advocate for human rights. Ten years ago, she was nominated for a Nobel Peace Prize for her brokering of a ten-nation peace agreement that still operates successfully today.
"She spends her free time in dangerous parts of the world, helping other women feel good about themselves," said Ray. "And now, after carefully mentoring her through the promotion process, we can fully say she is ours!"
"Adams & Lee has always been a role model for other universities in regards to its commitment to diversity," said President Otis Vurraro in his remarks. "It's no surprise that someone as caring and nurturing as Marcia would achieve this honor so quickly. Other universities are rightfully jealous this afternoon that Marcia belongs to us."
Prior to Reardon's appointment, Adams & Lee was the only political studies department in its five-state region with neither a woman nor a person of color at the rank of full professor.
"Is that so?" said Vurrar. "Well, did I mention our pride in our competitive standard for promotion? Not just anyone advances at Adams & Lee."