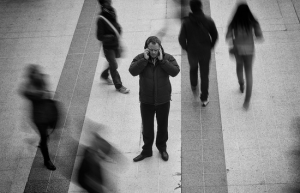 Monroe University President Elizabeth Lindstrom announced at Friday's opening convocation speech that she intends to exercise a new institutional stance of isolationism.
"For too many years, I've heard our hard working faculty and staff asking for resources and support because they see they are lagging behind the best practices in their field," said Lindstrom. "It's heartbreaking to hear them comparing themselves to an impossible standard of practice that they see in magazines. As a real-live practitioner, not one who is airbrushed or Photoshopped, I know we are inundated by images we can't possibly live up to."
"From now on, we are going to compare ourselves only to ourselves," said Lindstrom. "I have asked our IT staff to cut off internet access to all research journals, higher education news sites and webpages that reference our competitor institutions. From now on, we need to focus on rebuilding our own self-esteem and telling each other what a fine job we're doing."
To conclude, Lindstrom added, "Everyday I come to work knowing I oversee the best professionals in their fields. We are the best. All of us."
After the speech, members of the administration indicated that they were thrilled with the content.
"We've known for years that we're the best in the country," said Director of Residential Engagement Perry Wiess. "It's been a kick in the pants to open journals to see that other schools get all the credit because they're trying new things. We're not trying to fix something that isn't broken. There should be honor in that."
"I hope President Lindstrom's bans also include conference attendance," said Leadership Activities Coordinator Katlin Marks. "I hate going to conference workshops and hearing all these 'best practices' we should be doing when they don't even know our students the way we do. Just once I'd like to see an awards ceremony at a conference that recognizes loyalty and consistency. I've been in my job 35 years and no one says a damn word about that."
"I appreciate the pat on the head, but I'm a little concerned about the complete cut-off from other scholarly leaders in higher education," said Professor of Eco-Economics Priscilla Newmar. "I've been working on a study with three other universities that shows promising results about reducing poverty through ecological altruism and it sounds like this new policy could halt that work. Maybe the president is right though. I used to think that researchers who really made the world better were heroes, but maybe they're just setting me up for stress and more work. Who needs that?"