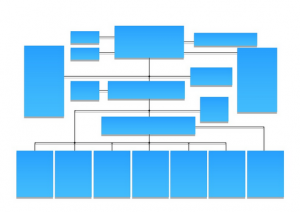 Administrators at Fern State University are on pins and needles, eager to hear the results of their vice president of co-curricular engagement's plan to reorganize their 150-person division.
"It's very exciting to go through this process again," said Director of Student Leadership Bart Strahan. "No one on our staff has been included in any of the planning, so I tip my hat to the vice president for successfully building such suspense."
In annual surveys conducted by The Chronicle of Higher Education, FSU is considered one of the worst places in the country to work. Staff morale and weak management are noted as particularly troublesome areas. Traditionally, after the results of the survey are revealed, the announcement of an FSU administrative reorganization is announced.
"It happens every three or four years," said Maureen Andreas, who coordinates Fern State's academic advising program. "The VP has heard about our dissatisfaction with the poor supervisors who work in the division and shows responsiveness and care by moving the supervisors to new areas of oversight."
"It's really a best practice every campus should consider," says Vice President of Fiscal Affairs Jimmy Proctor. "It doesn't cost a penny to switch people around, and for a month or two there is a lovely honeymoon period while the staff get to know their new leaders and some still have hope maybe something will change."
Vice President Maggie Walters, who has orchestrated twelve reorganizations in the past twenty years, has withheld details about her new plan with the press, colleagues and key constituents. During the last reorg, Walters said her changes were all a result of staff discontent.
"When a clear message comes from the entire division that staff feel disempowered and frustrated, I can't just ignore that," said Walters the day after she announced those changes. "It means there is a culture of dysfunction and I have to be willing to make the tough decisions." At that time, Walters put the names of all five of her direct reports in a hat. She renamed each of the five core areas of the division to give them a hip, modern feel, then randomly drew the names of the deans to fill the positions.
"There was some hope in the air that day," recalled Assistant Director of Admissions Francis O'Shannon. "There was one dean who wasn't quite as much of an asshole as the others, so for a few minutes our staff prayed that Dr. Walters would draw her name for our department head. "It gave our staff a real jolt of morale at one of our darkest time. With all the secrecy surrounding this reorg, I'm positive the VP has something just as exciting planned."