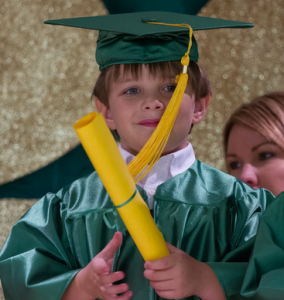 After protests from campus freshmen, sophomores and juniors, LeClair College has voted to celebrate graduations for each different class year every single year.
"I don't know how they didn't see how unfair this was," said freshman Amanda Borrelli, who is credited with starting the petition that led to the change. "I've had a graduation every year – from preschool through my entire education. LeClair expected my parents to show up to pick me up this year with no bouquet of flowers!"
"I was the keynote speaker at my little brother's sixth grade graduation this year and I suddenly realized I had been at LeClair for three years and I hadn't had a single ceremony myself," said junior Keith Musch. "I knew something felt wrong when my parents came to move me out each spring, and I finally realized it was the emptiness of not packing a cap and gown."
Student protestors staged their first march outside a presentation given by human rights activist Chen Guangcheng.
"We had a big-time speaker talking about humility and social justice that was supposed to draw a big crowd," said Borrelli. "We were thrilled to have such an influential visitor because we could harass a lot of people coming through the door."
"Yeah, this was a real issue of equity," said Musch. "I'm sure this is the kind of thing the speaker was talking. We want the same human rights as every other student."
"I'm surprised we never heard from Mr. Guangcheng," said Borrelli. "Hopefully he's using us as an example of how activism can really bring important social change. Next year, I think I'm going to start a movement to add orientation activities for every class year. We get all that special attention in the fall our first year at the college, then nothing but a big nothing when we come back. Our college really doesn't understand dignity."