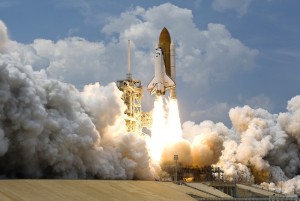 Staglen College junior Marquis Rivers returned from a semester-long internship at NASA this week excited to return to his work-study job in the Career Development Department.
"I can't believe how much I learned!" said the 4.0-GPA physics major about his time at NASA. "After my initial orientation, they put me on a team to help develop the next generation of computational algorithms for rockets. I was working side by side with some of the most brilliant scientists in the world and they treated me like a real partner."
Tara Matthews, the chair of the Career Development Department, was thrilled to have Marquis back on campus.
"We're so excited to have Marquis back in the office," said Matthews. "We really missed his special smile. Some of the staff here are getting ready to put him through out new training program."
"Marquis, like a lot of students, said that he's eager to learn how to help run the best office possible," said secretary Mona Langram. "I started out by explaining to him that at his developmental level, he is not prepared for the type leadership he envisions. Sometimes he forgets that he's just a student, but it's really rewarding for me to educate him about his learning abilities."
"I was anxious to help everyone get their work done so I offered to staple some of the hundreds of handouts my supervisor needed for a big open house," said Rivers. "Mona told me I needed to go through a probationary period before I would be ready for that kind of task. Once I've proven that I can show up on time for six consecutive weeks, they'll increase my authority level so I can make photocopies."
"Stapling requires a lot of discipline that students don't realize," said Langram. "Handouts are distributed to hundreds of open house attendees and we need to make sure the staples are uniform. Last year, some of the students asked if they could help talk to groups of incoming students without any adults there. It was crazy. At least Marquis is setting goals that are more realistic for someone at the undergraduate level."
"My supervisors at NASA gave me excellent evaluations and noted that I was one of the most dependable and accurate interns they'd ever had," said Rivers. "I suppose they just didn't understand student development theory as well as Mona does."