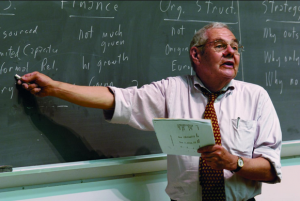 Professor Rupert Villanueva returned from the recent Conference for Learning Engagement elated over a teaching model that many instructors presented about. "This is going to change everything!" said Villanueva about what is commonly called the "flipped classroom." In order to maximize the time students spend discussing and analyzing information traditionally shared in lectures, professors assign material to students via reading or, in Villanueva's case, videos before they come to class.
"I'm going to implement this model next year," said Villanueva, who indicated that he has lots of preparation to do. "I already have all my lectures memorized verbatim, from the twenty years I've given them. This semester, I'm going to videotape myself presenting each one. By next fall, I'll be able to assign each week's lectures as homework."
Villanueva was sent to the Conference for Learning Engagement after students complained in evaluations that his dry lectures included no time for discussion and that he never interacted with the students in his class to assess their comprehension of the material.
"I confess that I was more than a little resentful of being forced to go to that conference, but I told my dean that she was right after all," said Villanueva. "By this time next fall, students will have heard each one of my lectures twice – once on video and once in person. No one can accuse me of not appealing to students' different learning styles."
Impressed by Villanueva's adoption of the progressive teaching model, Dean Marian Cromwell has encouraged him to present the basics to his peers at an meeting of the faculty senate.
"That should be easy enough," said Villanueva. "I can use a multimodal approach by showing the faculty a video of my assigned lecture and then videotaping myself when I present the follow-up lecture to exemplify how I reinforce the material and value the learning of the students. Come to think of it, if I videotape the presentation I give at faculty senate, I can show that at the next Conference for Learning Engagement."