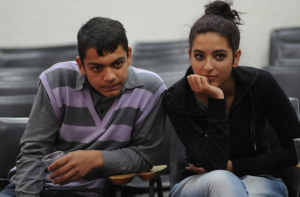 The competition for the top ranking student leader of the first-year class of Mother Madre University ended Friday afternoon when the three competitors addressed the question of humility. Sister Agnes Reilly served as moderator, and after hearing responses to questions about leadership experience and campaign platforms, Sister Agnes changed the tone of the questions.
"At the national level, we see people asking for votes because of how tough they are," said Sister Agnes. "Our college is based on a tradition of servant leadership. We hope our students exhibit a humble spirit. Can you talk about how your leadership will exemplify that value?"
Jordan McDermott from Sioux Falls, Iowa fielded the question first. "Well, like I said earlier, I won every award possible at my high school graduation this year, including the Most Modest Leader award. I can't imagine either of my competitors has those types of credentials."
Venicia Zajak from Baltimore, Maryland explained that her peers respected her humility. "I was voted Humblest Hottie in my senior yearbook last year," said Zajak. "I was always nice to everyone and this was at a school that was known for having the humblest students in the county. I'm sure that if there was a rank ordering of Mother Madre freshmen according to their humility, I would definitely be on top."
Audience members were unsure whether Charlottesville, Virginia native Katie Daniels heard the question correctly. "I really don't have any official humility credentials like Jordan and Venicia," said Daniels. "I didn't have time to compete for awards in high school. I spent most of my time volunteering and I'm not really comfortable with attention. I only ran for this position because it seemed like a great way to make a difference to our students and honor the tradition of the campus."
Following the debate, Vencia Zajak won the election by a landslide.
"If Mother Madre is going to continue to have the best servant leaders in the country, we need role models who aren't afraid to show of their humility," said freshman voter Nicholas Wood. "Venicia got right out there and showed her stuff. She's going to tell the whole world how modest we are. I can't wait to get a selfie with her."