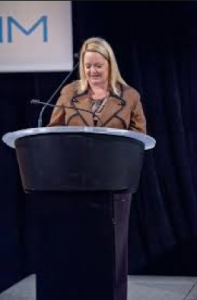 Dr. Kelleen Svanston, scholar and thought leader on engaging college students through engaging instruction, giggled with delight when she learned who the audience was at her most recent keynote speech.
After talking at length about classroom techniques designed to identify students' needs and backgrounds, Svanston was whisked away to a lunch with select members of the audience, where they explained their roles.
"We were excited to tell Dr. Svanston that we work in Greek Leadership Affairs," said Director of Fraternity and Sorority Life Lewis Campbell. "We were curious whether she had any ideas for connecting students to the larger goals of their organizations so they could learn about ethics and leadership more deeply."
"What a delight to meet people who work with Greek organizations," said Svanston. "We didn't have any sororities where I went to school. Have you read chapter twelve of my book Meeting Students Wherever They Are, which talks about how important the careful design of midterms is for engagement? That's one of the keys to deep learning that you should make a priority."
"We don't actually work in the classroom," said Joni Coe, who coordinates leadership and service learning activities for her campus's Greek chapters.
"I see," said Svanston. "Do you have a department for Teaching & Learning on your campus where you could possibly learn how to educate students? In chapter seventeen of my book I have a great activity for reviewing material for final exams. It's been particularly effective with engineering students."
"We are actually a music conservatory and liberal arts college," said Campbell. "Do you have any suggestions for a community like ours?"
"You must not have been listening," said Svanston. "I said that the activity worked well for engineering classes. You would have to use something completely different to engage your students here. You really have to do your homework."