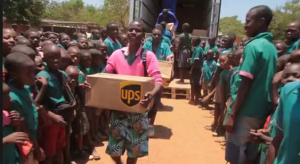 Administrators at Atlas College have noticed an interesting and alarming trend among its privileged student body this year. Social science researchers on the campus refer to the phenomenon as FOMOOMO, which stands for Fear of Missing Out on Missing Out.
"The typical Atlas student is financially wealthy, Caucasian, able-bodied and intellectually astute," explained Professor of Cultural Anthropology Shawn Lamb. "These are students who have everything they need and can afford anything they desire."
Given that profile, staff were confused when they noticed students' apparent discontent with their full lives.
"It started in the dining hall, when healthy students started requesting gluten-free meals," said Dean of Students Joshua Gutenberg. "We only had about five students self-identify as having Celiac Disease, but at one point over 200 students said they needed a gluten-free dinner."
"Then we discovered national reports on an epidemic called FOMO, or Fear of Missing Out," said Lamb. "In the age of social media, many people, young and old, see their friends' pictures on Facebook and assume that the friends have fun glamorous lives, or they see their friends enjoying an event that they themselves weren't invited to. They feel they are missing out and in some cases, depression or anxiety can result."
"What's so confusing is that our students want for nothing," said Gutenberg. "Still we see this FOMO-like behavior on the rise."
"I started asking for gluten-free meals when I saw how much attention my friend Alyssa was getting for her Celiacs," said freshman Tamara O'Norton. "I wanted to eat that shitty tasting food, too. She shouldn't be the only one who gets to experience that dry tasteless stuff and get all the glory."
"One of my friends has dyslexia and gets to take his exams in a different room than the rest of us," said sophomore Julian Coldwater. "I never get to see that room or get treated specially for my tests so I am choosing to self-identify as dyslexic myself until someone gives me fair treatment."
"I've noticed that African American people are getting a lot of attention these days because of the unfair way they are treated by the criminal justice system," said senior Christina Parkinson. "I don't know any people of color myself but I'm sure they'd tell me it's really awesome to get that kind of attention. I'm trying to figure out a way right now that I can be part of that experience. I would love to be able to put that kind of #ChristinasLifeMatters stuff on my Twitter for everyone to see."
"It's exciting to see this type of activism in our students body," said Vice President of Finance Winston Haer. "A lot of people accuse Atlas of being an elitist school that's out of touch with real social issues. I point to movements like this FOMOOMO revolution to show that our students are aware and willing to take real action. They are the leaders of tomorrow."