Thursday only, the campus bookstore is discounting chains of command at an unheard of 40 percent off! Don't miss out on this opportunity to provide your staff with the longest chain ever.
Tired of making decisions independently? Sick of the hassle of having to answer questions directly? Now is your chance to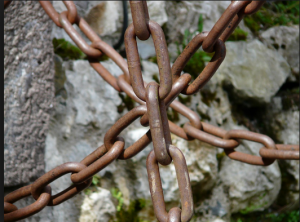 Each chain is made of high quality genuine stainless steeloid and has so many links your employees will never reach the end in their annoying search for someone to listen to them.
Do you have employees who report to more than one supervisor? Good for you! With each purchase of two or more chains, you will receive balls for free. No sense giving staff multiple options for getting their needs met when you can put a 50-pound ball of solid NO in their way.
Each chain comes with instructions to help you learn to assemble the chain with perfect phrases such as:
Great idea. I'll ask ______ at my next one-on-one if you're allowed to do that.
Oh yeah? If you disagree you can follow the chain of command and see where that gets you.
Nah, you don't have to email my supervisor. Just send me your concern and I'll take it up the chain.
Previous buyers have been thrilled with their chains of command. Just hear what they had to say:
Ever since I bought my first chain of command I haven't had to answer a single question with clarity. It's so freeing!
I loved mine so much I bought one for my boss and every other link to the president!
Admit it. Everyone looks better in a chain of command.