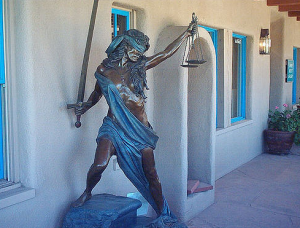 Student Honor Court Justices from Atlas College traveled to Jacksonville, Florida on Wednesday to present a session for the National Conduct Best Practices conference.
"I was super excited to be going to my first conference," said sophomore Dorinda Francis. "Our proposal was about a topic that is a real passion of mine – social justice."
Francis and her peers, Wally Sarancho and Ed Lipton, spoke about the importance of empathy and compassion in student conduct work, despite temptations to hold students accountable.
"For instance we recently heard a case in which a student was caught plagiarizing papers in three different classes," said Sarancho. "As it turned out, he had paid ghostwriters over three thousand dollars to prepare essays for all of his classes."
"At first glance, if you look at our academic integrity code, the outcome of this case should have been his expulsion or at least a lengthy suspension," said Lipton. "But we used a social justice approach when making a final decision."
"When you look at the high tuition he's paid in addition to the money he spent on those ghostwriters, you could really feel for him as a human being," said Francis. "Suspending him would have been punishing him even more, so we gave him twenty hours of community service instead. We felt like if we're supposed to support social justice, to ruin his life and reputation would have been hypocritical."
"We had another case this year where a guy stalked and beat up his ex-girlfriend. The pictures were really scary," said Lipton. "He came from a really good family and you would never guess that he could do something like this, but he admitted it."
"If all you did was read the report, you would think this guy was an animal," said Sarancho. "We were tempted to throw the book at him but our process challenges us to apply a social justice lens to the situation."
"When he apologized he started crying really hard," said Francis. "He explained to us that he was a senior and already had a job lined up. If we suspended him he would have to wait to get his degree and take the job. We really believe every human being deserves the dignity of being able to get an education and work as a productive member of society so we gave him twenty hours of community service and a mandatory meeting with his victim so he could apologize to her."
"We thought that was important because she was really traumatized. She had dropped out of school because she was so afraid of seeing him on campus," said Lipton. "We wanted to make sure she knew everything was okay now, right from the source."
"For those of you in the audience, we're not saying these are the exact sanctions you should use for your campus," said Francis. "We just urge you to keep social justice in mind in your deliberations."
"Right," said Sarancho. "For instance, you may be at a school with lower tuition than ours, so suspending the student might not hurt the world the way it would at our school."
"Or if you're at a public school that gets more attention from the media, you may have to expel someone like that assailant even if it doesn't feel right," said Lipton. "We're lucky to be at a private school where we can quietly make decisions that go against public expectations but support our peers so they can get high-powered jobs and be the leaders of our generation."