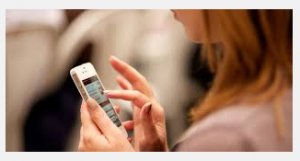 The Student Activities Office (SAO) at Cumbermount College has announced a reorganization of its department in order to provide more student-friendly services.
"We see lots of students walk by our events without even noticing that something is happening because they have their noses in their phones," said Director of Student Activities Leigh Ryka. "We've tried to improve our publicity, but posters and flat screen displays are even easier to ignore than the activities themselves."
After studying student use of social media, Ryka announced to her staff that all but one of the staff members would now have their titles changed to 'Coordinator of Activities – _______' with the blank filled in by a social media program.
"I became the new Coordinator of Activities – Twitter," said an excited Alyshia Poole. "I use the hashtag #CAT on all my posts. It's so fun! I've used the Twitter account to meet all kinds of student activities professionals from around the country and we've become really good friends. I was worried that this change in roles wouldn't give me enough to do, but I could be on Twitter three quarters of the workday before I realize it's almost time to go home."
"I'm the Coordinator of Activities – Instagram, which is almost #CIA. What a cool way to brand myself!" said Donald Keane, whose former role was to plan weekend concerts and comedy shows in order to offer an alternative to dangerous drinking. "Now I post the old selfies I took with the comedians and famous singers who came to campus and I write snappy slogans to go with them."
"Each of these social media tools is free, which is definitely not true of the events we used to slave over," said Ryka. "I would challenge any student activities program in the country to voluntarily reduce their spending by 90 percent while increasing their focusing on engaging students."
The ten percent of expenditures on SAO programs this year were for "Please friend SAO!" engagement events.
"We gave away free shirts, hats, pens, bookstore gift cards and candy to any students who would connect to us with their social media accounts," said Keane. "We are closing in on our 100th friend and hope to have that nailed down by next month."
"We haven't done any assessment yet to see whether our reorg is working, but anecdotal data is very promising," said Ryka. "We've had a 97 percent drop in event attendance but almost every student we see walking across campus has their phone in their face. I would say we probably have the most connected student body ever."
"I used my Facebook account to connect to SAO and got a free scarf," said student Nichos Anakareidis. "Then I adjusted my settings to hide their posts so they wouldn't spam up my feed. If something cool is happening on campus I'm going to hear about it from my friends anyway."
How did Anakareidis know about the scarf giveaway?
"One of my friends works for SAO and he sneaked something out on Twitter for all of us," said Anakareidis. "I appreciated the direct student-to-student engagement with the activities department. I don't suppose SAO ever considered talking to real students about their habits to help them strategize."
"One of our student workers made that same suggestion," said Ryka. "I have a master's degree in college student psychology. Suggestions like that are just an indicator that students are developing their desire for competence. Thankfully we already have a highly competent staff already."