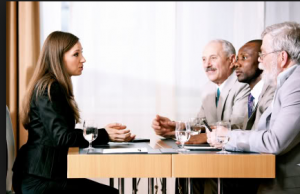 Jarquilla Pronders stunned her graduate school classmates at The Placement Exchange higher education job fair this week when she correctly identified three facts about the schools she had just interviewed with.
"At first we were debriefing her interviews and I was sure she was cheating when she described the schools," said second-year grad Michael Glaston, who had coffee with Pronders during a rare 30-minute break between his forty other interviews. "You have a fifty-fifty chance of guessing correctly on the public/private question so I wasn't completely stunned when she got that one right."
"Then she knew how many students attended the schools," said another cohort member Marissa Conklin. "No one bothers to look up that level of detail when preparing for interviews. Things were really starting to get creepy. I peeked under the table to see if she had some kind of an app or crib sheet."
"I had to leave the table when Jarquilla knew what state the schools were in," said Glaston. "I've never seen anyone guess what accurately. Come on! The goal is to sign up with as many schools as possible at these things and then spend every spare minute you can socializing in the convention center bars."
When asked about her seemingly-psychic abilities, Pronders was thoughtful.
"I'm more naïve than omniscient, I'm afraid," said Pronders. "I actually believed it when our professors and mentors told us to study up on the schools that were interviewing us so we could make reasoned decisions about our career interests. I could swear I read that in job search guides, too, but I must have been so tired from exams that I missed the joke."
"Oh, that's funny," said Conklin. "Everyone knows you just sign up for interviews and hope you score a few free flights for on-campus interviews before you really get serious about narrowing down your choices."