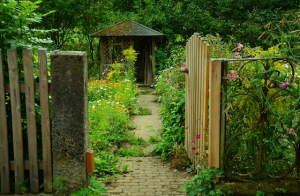 Applied mathematics professor Angus Marvin could not have been more excited than the day he read the campus email offering Koy College faculty and staff the opportunity to volunteer in the Campus Community Garden.
"I love being outdoors and working with plants but with the type of research I conduct, I have to be on campus more hours than a proper garden would allow," said Marvin. "Volunteering to join with the college community to grow nutritious vegetables that we can donate to our local food bank sounded like the answer to a prayer."
Marvin's face darkens when he tells the story of his actual experience.
"Right after I signed up, I got a call from IT telling me that my email account had suspicious activity and they feared I had been hacked," said Marvin. "When I opened my mail, I found hundreds of emails from the garden planners trying to decide on the volunteer assignments. I tried to keep up with the planning but each time I wrote a time and a plot assignment on my calendar, someone would say they had a conflict. I offered to create a simple shared scheduling database for everyone but I think my message got lost in the flurry of communication."
Marvin said that despite his reservations about the organizational skills of the team, he was still enthusiastic about getting outside for his first day of volunteering.
"I brought my own gloves and shovel from home, thinking that would help," said Marvin. "As soon as I stepped on the soil, Margie Burrows from financial aid demanded that I leave the area. Apparently, my shovel and gloves were not right out of the box so I had no proof that they had never touched non-organic items. Margie got right in my face and accused me of trying to sabotage the project."
Marvin said he apologized and went back to his office where he quietly changed his volunteer schedule to avoid another shift with Margie.
"At my next shift, the weather was a little rainy so I pulled out my rubber boots," said Marvin. "They were the same boots I wore when I helped my dad plant his last garden before he died twelve years ago. Apparently, they weren't very stylish compared to the other volunteers' and I heard some pretty mean jokes at my expense. Still, I was willing to take some ribbing in order to grow some lovely vegetables."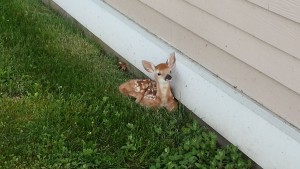 One evening that spring Marvin discovered a tiny fawn curled up next to the tool supply shed at the garden and quietly told the dozen volunteers working that night in case they wanted to take a peek.
"When deer are very young, their mothers will leave them in a quiet place while they go off to search for food. I was going to explain that to the group, but before I could say anything they had swarmed the baby deer, picked it up and rubbed their hands all over it," said Marvin. "I asked them to stop. Deer have very sensitive smell and will abandon a baby if it smells too much of human. Touching it is actually illegal in our state. The group wouldn't stop because, according to them, they love nature more than me. I had to raise my voice a little before they put the deer back where it belonged. I'll probably never know whether it's still alive."
When Marvin returned to his office that night, he saw a thread of emails titled "Shame on Insensitive Professor Marvin."
Throughout the previous hour, the garden team had voted unanimously via Reply All to terminate Marvin's involvement.
"I had to remind them to take my name off their mailing list after the thread, 'Will someone ask Professor Marvin if we can use that really good shovel he used to bring?' appeared," said Marvin. "I probably should have turned down their request, but I suppose that's just me being petty."