Free to a good home!
Dear Campus Community,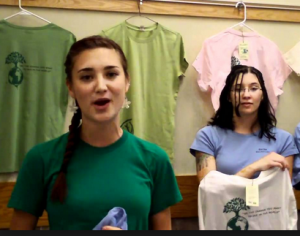 We have 500 leftover "Support Sustainability" shirts of varying sizes left over from last night's Ecology Gala. Come on over to the Goodall Center to grab a shirt and get a free plate of leftover food.
Please don't tell any of the local homeless community like you did last year. We had admissions tours going through and the vagrants really sent the wrong message. Also, these shirts have the logos for both the college and the sustainability club on them and it could really contradict our branded image if people who aren't students wear them. Anyone who saw them would be so confused. Additionally giving things away willy nilly would simply be irresponsible. We spent over $6000 for that fundraiser last night – and $4000 of it was just for the tee shirts. We need to model fiscal responsibility to the community.
Sincerely,
Campus Ministries and the Department of Civic Engagement