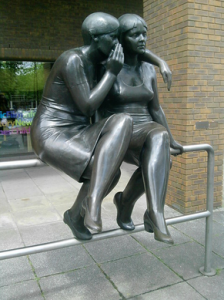 After years of informal use, the computer science department at Hawthorn Polytechnic has finally adopted the telephone game as its official communication mode.
"We've been trying to identify an official language for our department for years," said the chair of coding sciences Graham Houghtaling. "We are computer scientists. Everyone has a preference for a certain language. I'm a Python guy, but we have Java, C# and PHP preferences in equal number. It never occurred to us that our language of choice was right at our fingertips."
Department secretary Marion Coogan stumbled upon the unconsciously-created lingual system by surprise one day.
"I needed to get permission to buy a box of 99¢ ballpoint pens, so I used our usual process of asking my supervisor," said Coogan.
"I loved the idea of Marion having a fountain pen for her work so I waited three weeks for my next one-on-one meeting to ask my supervisor to ask our department chair for approval," said office manager Marty Ford.
"I wasn't sure Marty's idea was the right way to go for our department, but I do say I'm open to new ideas," said department chair Amos Rushistan. "I appointed a task force to conduct a feasibility study to examine the practicality of building a fountain. They worked quickly and submitted a thorough report within three months."
As Coogan waited through each step in her chain of command, from the department chair to the dean to the vice president of finance and then back down again, she realized this process had evolved, just like a language.
"We use this process to make every decision in our department," said Coogan. "It's inclusive of everyone and keeps morale high since everyone knows what everyone else is doing. It also lowers stress since no one actually has the authority to make any decision at all."
"Sure a few details fall through the cracks with this system, but it's a system we love and wouldn't know what to do if someone above us took it away, said Ford. "Of course this is the modern age, so we're pitching the name 'VOIP Game' instead of "Telephone Game" as our official departmental language. We don't want to come off as dinosaurs. Telephones probably won't exist by the year 2097 when we expect to hear the final decision."