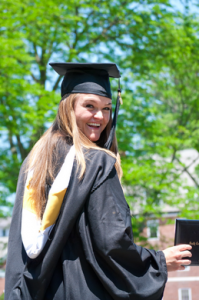 Six students are dead and 230 more are in guarded conditions after Saturday's commencement ceremony at Poplar College. Medical examiners say excessive cord distribution is to blame.
"We were so proud of Mindy," said mother of Mindy Brazer, the first casualty of the ceremony. "She had at least thirty cords wrapped around her neck when she processed into the gym. It's hard to believe now that we were arguing with her dean on Thursday because she didn't have a cord to recognize the extra-credit class in glass blowing she took during her sophomore year. If we had only known…"
Immediately following the news, Poplar's President Norm Dulles convened an emergency task force to raise awareness about the dangers of over-recognition.
"As a first step, we are trying to negotiate an agreement with the current junior class to reduce the number of cords and sashes to be worn at graduation next year," said Director of Crisis Response Molly Cousins. "Initial conversations have ended in a stalemate but we have almost a year to reach an agreement."
"This is just one more way the older generation is trying to hold us down," said junior class president Austin Owens. "Higher education is about getting recognition. If you take away our awards, you've taken away our identity."
"I wore fifty-five cords at the ceremony and I'd do it again," said Elle Geddriks, who suffered from spinal misalignment but hopes to learn to walk again. "Asking me to remove a cord would be like killing a child. Which one do I remove? The Spanish Club cord? The soprano chorus cord? The almost-perfect attendance sash? Every one of those decorations has a special meaning."
"Perhaps this is a matter that needs to be examined from another viewpoint," said Erique Drothers, the Distinguished Chair of Economics. "The crisis task force seems to be focused on demand. What if they looked at the supply side of things?"
"We're developing a cord that weighs half as much and lights up if the user has an oxygen deficiency," said Brandon Alu, president of the Student Innovation Entrepreneurs. "Maybe by next spring our GoFundMe campaign will have raised enough money for distribution."
"That's an awesome idea," said Geddriks. "It recognizes student ingenuity – and now I can wear twice as many cords next year!"