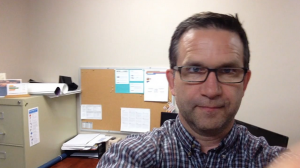 Executives at Forsythia Agricultural Institute revealed plans this week to address sexism on its campus head-on.
"After the results of our gender climate survey came back, we realized we had some serious issues of inequity right here on our campus," said Vice President of Equity Donald Washington. "We didn't want to be one of those campuses that sweeps things under the rug so I immediately announced the formation of a gender-focused task force."
"The problems identified in the survey included not just female students, but faculty and staff, too. We needed a task force that could represent a broad range of campus constituents," said task force recruitment chair Christopher Groves. "I turned to HR director Frank Trémont and dean of student life Matt Phillips for their expertise and keen insight."
"We value our students above all else," said Washington. "So we invited the president of the study body, Alberto Paez, with whom we increased our diversity since he was born in Brazil."
Included in the new plan, known now as Forsythia for Justice, are several innovative practices. According to the report:
Each female faculty/staff member will have a male professional watchdog attend every class, meeting and event with her on campus. If something sexist happens, the watchdog will immediately intervene to protect the female.
A large-scale Forsythia for Justice social media campaign will take to tweet inclusive comments like "Women are just as good as men #SocialJustice" every Monday, Wednesday and Friday.
One seat on both the faculty and student senates will be reserved for a woman just in case none of the other positions have a filled with an elected female leader.
"I am really excited about the third one," said Washington. "We are really making a commitment to inclusion here by mandating it. I'll be honest, I never even noticed that we've had an all-male faculty senate for the past six years. That's the privilege of being so open minded. I'm gender-blind."
"I had a chance to read the Forsythia for Justice report before it was released," said Madeline Trémont, spouse of Frank, who had asked her for honest feedback. "I asked whether he realized that the new program is a bit paternalistic."
"I couldn't believe she asked that," said Frank. "I'm pretty private so I never expressed to her before how much becoming a father to our three daughters changed me and showed me what true love is. That love imbues my work now and I see my role as the father of all the women at Forsythia. It is truly an honor to protect their empowerment."