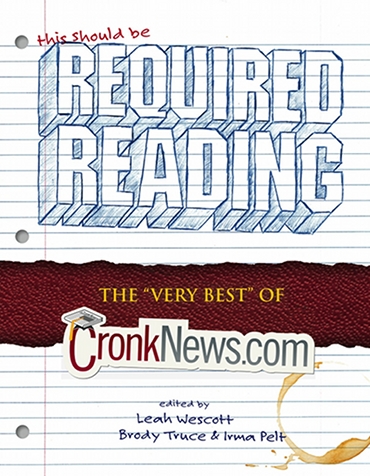 Your professional development isn't complete without Required Reading.
Thank goodness colleges are perfect. Otherwise a sharp-witted band of satirists would have no other choice than to start an online fake news magazine to write about the foibles of the ivory tower. They might call themselves The Cronk of Higher Education and take aim at the faculty and staff mired so deeply in their day-to-day routines that they forget to come up for a breath of fresh air.
And that is exactly what The Cronk would be.
If readers responded positively, these brilliant satirists might produce a book, called perhaps Required Reading, to celebrate the first year of its very best articles. Even the most ridiculous articles would ring frighteningly true and provoke intelligent reflection among colleagues, or at least the feeling that they're not alone in wanting to take a second look at themselves.
Let's hope that never happens.      ~As stated on Amazon.com
♥
Be a CronkNews Ninja and Spread the Like
♥ Tell your campus librarians and book store
ISBN: 978-0976873167
LCCN: 2011925249
Distributed by Ingram
♥ Write a review on Amazon
♥ Join the Required Reading book page on Facebook and share a comment
♥ Host a Requred Reading book club. Download questions HERE.
♥ There are hundreds of easy ways to help, and we'll reward you! Learn more about the book networking challenge.