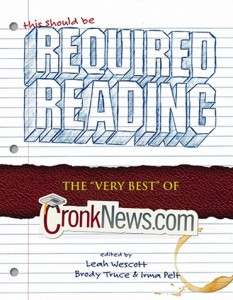 We have amazing readers and fans, and as we enter the publishing world with our first book Required Reading, we know we'll perish without their help. Help us for fun, or help us for rewards. You can advance through academic levels, from high school to  tenure track in any order you want.
Start with Level 1 (just buy the buy the book!) and you'll automatically advance from high school to college. If you buy your book on Wednesday June 22 between noon and 5:00 p.m. EST, you'll earn 500 credits toward your Associate's Degree.
See details below about each level of the challenge.
Questions? Confusion? Send all inquiries to CronkNews@gmail.com.
Rulesy Stuff
This game is offered for fun. We rely on faithful readers and want to reward them their networking assistance. We'll rely on participants to follow the rules and to use their conscience, common sense and the honor system to guide their practice. Please play in good faith so we can keep the game open as long as possible. We reserve the right to end the game at any time if we have evidence of funny business that is not funny ha ha. We are open to additional prize ideas or creative mission suggestions, so you may see the game descriptions grow and improve as the game progresses. We may also add rule clarifications or other details – in order to clarify, not to penalize players or prevent their success. Prizes are open to all participants unless budget horrors or exceptional circumstances prevent the administrators from fulfilling their good-faith offers.