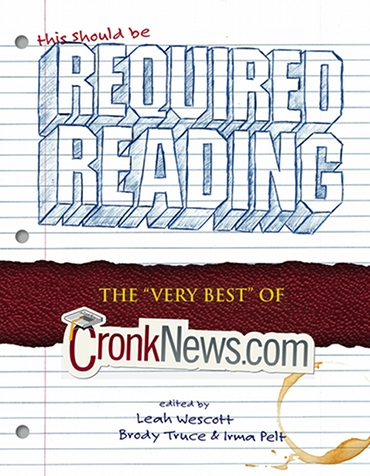 Welcome to Community College!
Congratulations! You've earned your high school diploma and you're the proud owner of Required Reading.
Once you're done hugging and kissing your book, we sure could use your help telling the literate universe about this sassy little sucker.
Earn 7000 credits from the Level 2 missions and you'll have your choice of these awesome prizes.
An autographed business card from your favorite Cronk senior writer
An official Irma Pelt knee-high
An Erica Price memorial pony tale band stretchy band
Suggest your own prize at this general level of exceptional quality
Mission

Proof

Credits

Write a tweet saying something like "I bought the #CronkBook called Required Reading"
Just use the hashtag and you're all set.


1000

"Like" the Amazon listing for Required Reading.

Screen shot

1000

Join the Required Reading Facebook page.

N/A

1000

Post a link to the Required Reading Amazon listing on your FB and give us a shout out.

Screen shot

1000

Write a not-hateful review of Required Reading on Amazon

If you use a name other than one we'd recognize, send an email note to CronkNews@gmail.com

1500

List Required Reading as one of your favorite books on your Facebook profile

Screen shot

1000

Write a review of Required Reading for GoodReads.com and other similar sites.
Screen shot

1000 per review

Write a review of Required Reading on your personal blog.

Send us a link.

1000

Write a testimonial blurb about Required Reading on the wall of the book's Facebook page.
We'll see it.

1000

Did you buy your copy of Required Reading on Wednesday June 22, 2011?

Proof of purchase

500

All done?

Once you've compiled proof of your 7000 credits, send all proof to CronkNews@gmail.com with your preference for one our fabulous Level 2 prizes.
Continue to Level 3 to earn your CronkNews Bachelor's Degree.
Rulesy Stuff
This game is offered for fun. We rely on faithful readers and want to reward them their networking assistance. We'll rely on participants to follow the rules and to use their conscience, common sense and the honor system to guide their practice. Please play in good faith so we can keep the game open as long as possible. We reserve the right to end the game at any time if we have evidence of funny business that is not funny ha ha. We are open to additional prize ideas or creative mission suggestions, so you may see the game descriptions grow and improve as the game progresses. We may also add rule clarifications or other details – in order to clarify, not to penalize players or prevent their success. Prizes are open to all participants unless budget horrors or exceptional circumstances prevent the administrators from fulfilling their good-faith offers.