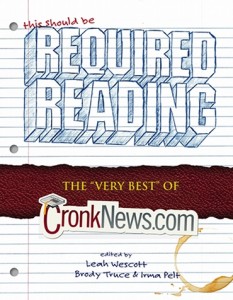 There's Only One Hurdle on This Tenure Track
Earning tenure requires intense focus on scholarship, instruction and service. Only one task is required in order to earn the keys to full academic freedom and security.
Your reward for completing Level 6 will be:
a waived speaking fee for a CronkNews head writer to speaker at your campus, for organization's conference (minus travel expenses) or something along those lines.
Ideas for additional prizes at this most elite level are welcome.
Mission Details
Mission
Proof
Credits
Convince a writer at a major national news or blog organization to write about Required Reading. (Think: New York Times, Washington Post, HuffPost, NPR, Wall Street Journal, etc)

Send a link or copy of the article or mention, along with proof that you were responsible for the coverage to CronkNews@gmail.com.

100,000

You're our hero.
Fulfillment of tenure comes with scheduling and personnel-related realities. We will do our best to meet your needs with the speaker and timing you desire. We work full-time and may have to work with you to find a time/situation that is acceptable but not necessarily perfect.
Rulesy Stuff
This game is offered for fun. We rely on faithful readers and want to reward them their networking assistance. We'll rely on participants to follow the rules and to use their conscience, common sense and the honor system to guide their practice. Please play in good faith so we can keep the game open as long as possible. We reserve the right to end the game at any time if we have evidence of funny business that is not funny ha ha. We are open to additional prize ideas or creative mission suggestions, so you may see the game descriptions grow and improve as the game progresses. We may also add rule clarifications or other details – in order to clarify, not to penalize players or prevent their success. Prizes are open to all participants unless budget horrors or exceptional circumstances prevent the administrators from fulfilling their good-faith offers.