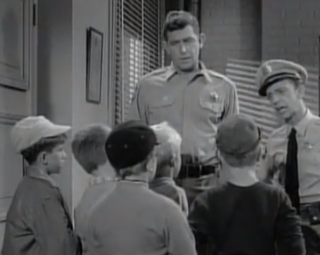 University Hospital at Green Mountain State in Maine is treating Resident Assistant Trent Vonder for a rare psychological disorder called merged personality dysfunction. During his first two weeks on the RA job, Trent began to manifest the personality of television icon Barney Fife.
"We had some early concerns during staff training," said hall director Carmella Johansen, "but we thought he was just overly enthusiastic about rule enforcement."
More serious concerns arose the first week of school, when Trent set a new GMSU record for the most disciplinary write-ups in one night.
"Trent submitted incident reports accusing students of 'being a little too sarcastic' and 'looking like they might be up to something,'" explained Johansen. "We didn't make the association with Mr. Fife until our elderly dean of students noticed Trent's overuse of the term 'nip it in the bud' – apparently a phrase Fife used on the classic Andy Griffith Show."
"I think the rest of the staff is just jealous of my exceptional RA performance," defended Trent. "I'd never even heard of Barney Fife until last year when my mom compared me to him. I can see why he would be such a strong role model for RAs. I need to get out of the hospital soon, so I can get back on campus and stop all the mischief. We need to nip it in the bud or students will be having fun all year."