By Brody Truce
Staff Writer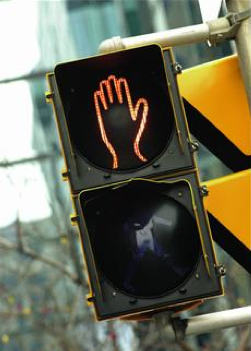 A recent online student safety poll at Bridger College in Cody, WY found that over 80% of students are uninterested in using the College's designated crosswalks when crossing the street.
"Frankly, we were all shocked," said Nancy Ambrose, head of Bridger College's Campus Safety Division. "We were pleased that our statistics on alcohol and drug use declined since last year, but the statistics on jaywalking pose a new and serious threat to the safety of our students."
College Deans were quick to react to the problem.
"Part of our college mission is to teach our students to be good citizens, and learning how to use the crosswalk is a perfect real-world example of that," remarked Dale Ellison, Dean of Academics. "It's been inspiring to see all of the Deans working together on a multi-pronged solution to this crisis."
Changes on campus include a thorough repainting of all crosswalks, as well as trendy new crosswalk signs.
"Stick figures were great in the 20th century, but today's students need a different kind of motivation," said Martin Lautner, Dean of Facilities. New crosswalk signs will feature celebrities such as Mr. T and the cast of MTV's "Jersey Shore" instructing students to "don't be a fool" and use crosswalks to avoid "a situation." Additionally, academic incentive is being offered in foundations courses for freshmen and sophomores who use crosswalks.
"Currently, we're using a self-report system, but we've budgeted for crosswalk card readers for the upcoming year," said Ellison. Next fall, students will be able to insert their IDs into card readers after using the crosswalk and earn up to 100 bonus points during the course of a semester.
Finally, the Bridger College Counseling Center has launched an elaborate social norming campaign. "We've decided to focus on the students who do use the crosswalks in the hopes of swaying more students back to safer behaviors. For instance, did you know that students who use the crosswalk are 93% less likely to be hit by a car, and three times as likely to make the Dean's list?" The social norming campaign will be highlighted during next fall's Resident Assistant training, with statistics appearing on posters, rape whistles and lanyards.
At least one student seemed unimpressed with the recent changes. "I guess the new crosswalk signs and lanyards are cool, but it would have been better if they had spent the money on moving the crosswalks to where students actually walk."