by Irma Pelt
Senior Staff Writer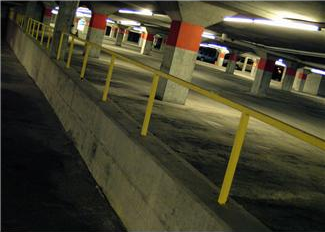 After a satisfaction survey issued to faculty, staff and students at Van Grove University showed an alarming rate of disappointment with available parking, administrators made a commitment to create more spaces throughout university-owned property.

\"We heard the call,\" said Douglas Bates, Director of Public Safety and Transportation Services. \"This is obviously something that is extremely important to the Van Grove community.\"
On the student side of the survey results, the parking issue surpassed disappointment with academic advising, course offerings, dining hall food, and career services support. From the faculty and staff results, the parking issue outweighed overall disappointment in support for research, available insurance plans, and the type of students being recruited.
Bates explained that within the next eight months, all academic buildings at the university would be destroyed to create more available parking.
\"Where the buildings once stood, we\'ll install JumboTron screens. Students and faculty will never have to leave their cars,\" Bates said. \"It\'s progressive, like a drive-in classroom.\"
The new drive-in lots will be outfitted with audio transmitters, allowing students to hear lectures via their car stereos.
Lyle Beagley, chair of faculty senate, expressed the faculty\'s enthusiasm for the new plan.
\"I think this plan is innovative and groundbreaking. It solves all sorts of problems from all perspectives,\" said Beagley.
Faculty senate will hold workshops throughout the transition period to assist faculty members in converting their teaching styles to that of the drive-in format.
\"The faculty are especially looking forward to holding their office hours in their cars. Some of us drive really nice cars,\" said Beagley. \"This will let us show students how important we are when they pull up next to our Mercedes and BMWs to get assistance with their coursework.\"
Van Grove students are receptive to the unusual classroom format.
\"I love this idea,\" said Gillian Ward, a sophomore at Van Grove. \"I never have to worry about that long walk between buildings again.\"
Ward said she often skipped her early morning classes because of the long walk in the cold.
\"Now I can just park my car in the designated lot the night before and I\'ll be there when everyone else starts pulling in,\" said Ward.
While the university is debating how to handle the issue of first-year students, who are currently not permitted to have cars on campus, they are also considering eliminating the residence halls on campus.
\"We\'ll see how the first few months go before we make a final decision,\" said Bates. \"I strongly believe that the task force overseeing this plan will recognize that residence halls are no longer needed when students are already attending classes in their cars.\"
The university ride board, an electronic service connecting students who need rides to their hometown or other cities with students traveling to those areas, will be converted to a class carpooling system.
\"We don\'t want students without cars to have an excuse not to attend class anymore," said Beagley. "It used to be the old excuse of not being able to find a parking space. This prevents them from being able to claim that not having a car caused them to miss classes.\"