by Brody K. Truce
Senior Staff Writer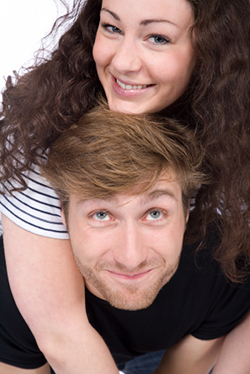 The Cronk of Higher Education is sad to report that Adam Alex Michaelson and June Andrea Michaels have announced their breakup. The couple met last Saturday morning at the ACUHO-I conference registration table.
"It was a fairytale meeting," said Stacy Oliver, a volunteer who was working at the registration table when the couple met. "They both reached for the first-time attendee ribbon. It was pretty much love at first sight."
The couple was spotted holding hands at the reception and canoodling at the hotel bar Saturday night. On Sunday, they were seen sharing a giant cinnamon roll during breakfast and spent the entire day attending conference sessions as a couple. Sources watching Facebook report that both Michaels and Michaelson changed their respective relationship statuses later that day.
"I was really excited for them," said Jeff Jackson of BreakDrink.com. Jackson, who is also an licensed minister, was hopeful for an ACUHO-I wedding next summer. "They could have been my first official conference wedding. Minneapolis is lovely in July."
The relationship apparently soured on Tuesday morning. Sources close to Michaels say that the couple split over irreconcilable differences surrounding Michaelson's NASPA affiliations.
"This is a sad time for both of them," said a close friend of Michaels.
Michaels and Michaelson have requested that the press and public respect their privacy for the remainder of the week and will allegedly use their flights home as a time of reflection and healing from this sad breakup.