by Anselmo Watkins
Freelance Writer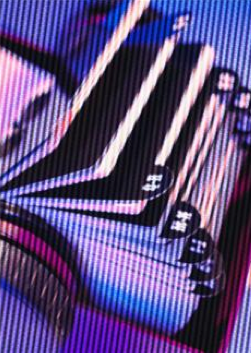 Wahrouda University IT staffer Edgar Calhoun takes his business cards very seriously.
On August 31, in an impromptu hallway meeting with Professor of Biochemistry Eli North, Calhoun finally exchanged business cards with the reclusive emeritus professor, giving him a complete set of Wahrouda University business cards. It took just over seven years to collect the complete set of 1,578 cards.
"My rule was that I had to speak with them – it had to be face-to-face and there had to be an exchange of cards. Otherwise it just didn't count," Calhoun said.
His tally includes the university's 1223 current staff and faculty, 117 "carded" students, including members of the Associated Students governing board, and 278 cards of employees who no longer work at the university, including eight who have passed away.
"I got Dean Stockstill's card just a few hours before he died," Calhoun said of the much-loved head of the College of Science who passed away in 2008 from complications of diabetes. "I had to help him with Internet Explorer. He was so kind – he gave me some money to go buy us some big sodas. 64-ouncers. Regular for me, diet for him."
"Mine kind of tasted like diet, though," he recalled.
As an IT professional, Calhoun got many of his cards simply in his day-to-day job of maintenance and upkeep of the school\'s Windows XP computers. But he had other techniques as well.
"Holiday parties were a boon. Around Christmas time, I could collect a couple dozen cards in just a few hours. Never could drink at those parties – had to keep my mind fresh. Always on the hunt," he said.
North had proven to be Calhoun's white whale. The professor generally avoided computers and thus didn't need the services of an IT professional. Further, as an emeritus, he was off campus for long periods of time. Finally, Calhoun resorted to subterfuge.
"I'd been working in the same building as his lab, and I'll be darned if somehow some wires got crossed on the network hub and his graduate students couldn't get to the web. They called to let him know there was a problem and he came in. And there I was. Fixed it in a jiffy and got my card."
New staff members are always a challenge for Calhoun, but he has built a system to ensure nobody sneaks past him.
"For a while I tried volunteering for the new employee orientation, but I soon realized that they didn't have business cards yet. So I had to try something different," he said. "What I ended up doing was to program a Trojan horse [virus] into the Printing and Reprographics work order system. Now, whenever an order comes in for a business card, I get pinged and can arrange for a 'visit'".
Calhoun recalled one of his biggest triumphs – getting a staff member to walk all the way back to his office in the pouring rain to get the elusive business card. "I went all the way across campus with him. Got soaked. I'm sure he thought I was nuts."
"He's totally nuts," said librarian Ruth Dracon. "I'd been on the job for maybe two weeks when I got this call from him, saying he has to update some anti-virus program or something. Then he gets here, whips out his card, gets one of mine and is gone in ninety seconds. He clearly only wanted me for a card."
"I fully expect to see him on an episode of 'Hoarders' before too long," she added.