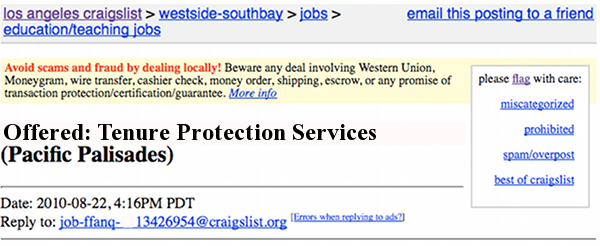 Personal Protection (within campus perimeter only)
Date: 2010-03-14, 11:28AM EST
Reply to: mailto:job-cronk-8037179008@craigslist.org
Are you administrators tired of having your ideas and initiatives shot down because you don't get any respect? Do you live in fear of being fired for doing the right thing? Sick of job instability because you work on a year-to-year contract? Hire TenureProf Protection Services. I have the full protection of a seasoned, tenured faculty member, and for the cost of your lunch money, I can offer the following:
I'll vocally support your programmatic efforts at committee meetings
I'll take your ideas and pretend they're mine so you can get funding and support
I will attend one after-5:00 p.m. event in the dorms each semester
If you don't pay for my services, I can't promise to support a single thing you do. Sounds harsh, I know, but that's just good business.
Location: University Campus
Compensation: your lunch money will be sufficient.
Principals only. Recruiters, please don't contact this job poster.
Please, no phone calls about this job!
Please do not contact job poster about other services, products or commercial interests.
PostingID: 8037179008