by Matthew Michael
Freelance Writer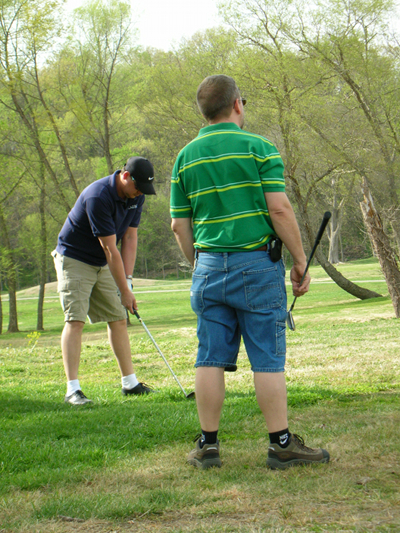 Faculty in the Southeast Dakota State University Golf Management Program have seen a three hundred percent increase in size of their incoming freshman class, and they cite one cause for the unexpected enrollment growth: the Tiger Woods scandal.
"We just want to produce good golf professionals," said Dr. Richard Huffman, chair of the Golf Management Department. "But I think some of our incoming students might have chosen our major for the wrong reason."
Huffman says his worries were confirmed when his department reviewed the bumper crop of admissions applications they received for the January 20 final application deadline. Huffman shared one admission essay he said was typical of the January batch.
"I believe I am a good fit for the Sport Management program because I want to marry a Swedish model who's like a '10' and then cheat on her with loads of women who are like a '6' or a '7,'" the student wrote. "Plus, I'm good at golf."
"Originally, I didn't understand where they got this picture of the golf profession," said Huffman. "I knew things worked out that way for me and my wife, Birgitta, but how did all these kids know about my wife – or anything about my personal life at all – and think it could happen for them too?"
Huffman's colleague, Dr. Jeanette Stonebrook, was the first to point out these applicants were referring to the Tiger Woods scandal. Stonebrook, an Associate Professor in the program, is the only female member of the Golf Management faculty.
"These pigs actually thought the students wanted to be like them," Stonebrook said of her department colleagues. "I can call them pigs now that I'm tenured. Anyway, I had to explain that Tiger Woods was the role model these students were thinking of."
Stonebrook says it is "appalling" that these students think Woods's behavior is something to strive for but she is pleased to know that her elective courses will likely not be affected by the large number of incoming students.
"I teach courses in feminist putting theory and sustainable chipping, and I think it's safe to say that demand for these electives will continue to be low enough to preserve their small seminar formats," Stonebrook said.
"I do think it's a problem," Huffman explained, "that these students might be caught off guard when they discover golf isn't all fun-and-games-and-sexting. But I'm not quite as worried as Jeanie," he said referring to Dr. Stonebrook. "Jeanie's always got her pretty little head worked up about something."