by Irma Pelt
Senior Staff Writer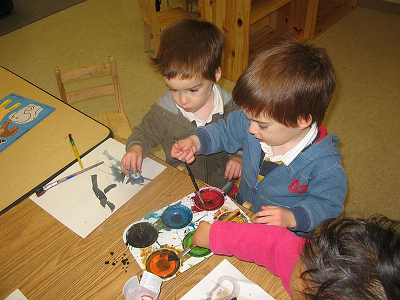 After receiving complaints from parents of children enrolled at the on-campus day care center at Fry College, campus police launched an investigation.
"Parents were concerned by the number of strangers who attempted to enter the childcare facility each day," said Logan Cunningham, chief of campus police.
Cunningham described several adults ranging in age from 24 to 28 trying to pry the doorknob on the secure facility, which requires a PIN code to enter.
"In at least one case, after being unable to get into the facility, the suspect stood with his face pressed against the glass, staring into the room longingly as the children played," Cunningham said.
Cunningham said the risk was not linked to pedophilia or child pornography, as initially suspected by the parents who brought the issue to his attention.
"From what I can gather, it sounds like these people were confused," said Cunningham.
"It is plain sick," said Elspeth Villacana, an associate professor of applied physics and a concerned parent of a child in the university daycare.
Villicana filed a formal complaint with Fry campus police after a unknown individual attempted to follow her into the daycare during an afternoon visit to her toddler son.
Alexa Barnes, coordinator of student involvement, defended her attempts to hack the secure PIN system.
"I was looking for a place to unwind in the afternoon between meetings," said Barnes. "Every placement event I attended had a magical room just like the one in the Administration Building. There were crayons and toys and bosses aren't allowed in there."
Cunningham confirmed that several student affairs placement conferences provided "stress-free" zones.
"They stock these rooms in convention centers full of kids' toys and coloring books. It's the damndest thing," said Cunningham.
Villicana, after being informed of the confusion, reiterated her point.
"That's also sick," she said. "Not as bad as pedophiliacs, but people who take breaks in their day to play with toys as stress relief? And they wonder why academic affairs doesn't take them seriously."
Barnes now seeks refuge in an alternative location.
"I bought some cool toys for my office," she said. "They're always in a crate near my desk to make me look fun and approachable, but when life gets unbearable, I take them out and play with them myself. I can build an awesome Lego helicopter."