by Brody K. Truce
Senior Staff Writer
Town/Gown relations in Norwich, CT deteriorated in record time this year when students returned to campus. For over fifty years, tensions between "townies" and college students have centered around student vandalism of locals' mailboxes, cars and homes. But this year, the townies took matters into their own hands.
"I was sound asleep and heard screaming and yelling," said Patrick Minchoff, a junior living in Vanderbilt House. "When I looked outside, I saw a bunch of old Townies screaming and tee-peeing some trees. I had class the next morning. Don't they know we're trying to sleep?"
The Townies, who have adopted the name "The Rebel Alliance," allegedly stormed the campus between the hours of 4 am and 7 am last Tuesday leaving a wake of vandalism and destruction.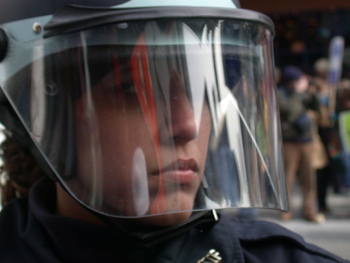 "The Townies pooped all over the front steps of our lobby," exclaimed Charity Minster, a sophomore living in Thurston House. "We were totally trapped for hours. We didn't know how to get out. There was a lot of poop."
Chaos also erupted in the student parking lot, where Townies allegedly egged cars, deflated tires and blocked parking lot exits with their own vehicles.
Carter College officials have established trauma counseling stations in the lobbies of each residence hall and in the dining hall.
No one from The Rebel Alliance could be reached for questioning, but a note reading "Stay Off of Our Lawns…Or Else!" was found posted on an oak tree in the quad.