by Irma Pelt
Senior Staff Writer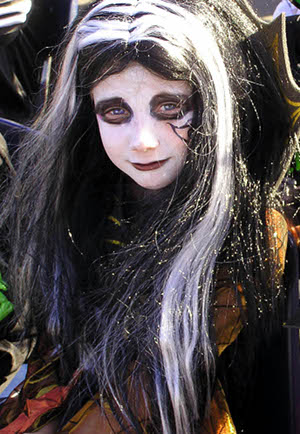 The Collegiate Halloween Costume Hall of Fame (CHCHF) released its list of 2010's top five most culturally insensitive costumes for students looking to make a statement. The list, updated annually, highlights the costumes most likely to offend for those students who are immune to universities' social justice initiatives.
5. Following this summer's devastating flooding in Pakistan, a popular group costume is the 2012 Pakistani Olympic swim team. The flooding, which killed more than 2,000 people and ruined crops, has provided the foundation for men donning Speedo bathing suits and swarthy, thick mustaches to run mostly naked around their campuses.
4. After 33 Chilean miners were rescued following an accident that left them trapped underground for 70 days, the door was left wide open for Halloween costumes. Most popular is dressing as a miner with a sign reading, "A shaft saved my life. Now let it save yours!"
3. For those who don't want to put much effort into putting costumes together, dressing as a victim of the Haitian earthquake is as simple as wearing everyday clothes. Periodically throughout parties and events, the "Haitian" yells, "Did you feel that?" and runs outside. CHCHF indicates that to be most effective, the person should carry a poster of Wyclef Jean or an old Fugees CD.
2. In homage to one of the largest natural disasters in the history of the United States, costumes related to the oil spill in the Gulf are popping up on campuses. Most popular is wearing a BP t-shirt or uniform, which are reported to be easily found in thrift stores. The person in costume makes a loud explosion sound and then employs a Super Soaker water gun to hose down other party goers with cooking oil.
1. The Cast of Glee. According to the report, this is the modern day equivalent of dressing as The Village People.