by David Anthony
Freelance Writer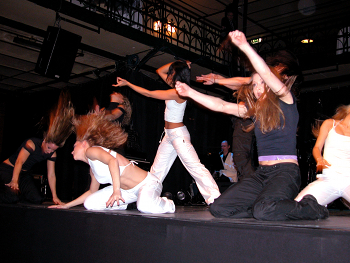 In a rare emergency board of trustees meeting at the Theatrical Music Dramatis Academy in San Jose, the clause in the student handbook prohibiting "free, open, and public physical expression through prancing or frolicking on academy grounds" has been repealed.
The motion originally gained public notoriety when Student Government president Andrew Loafton stated in his campaign platform, "To deny one's right to publicly prance and frolic on school grounds is appalling. I will not seek nor will I accept a campus that does not allow my fellow students to dance embarrassingly among each other!"
The current statute, commonly referred to as "Don't Prance, Don't Frolic," has been official policy since 1993 when the Academy's dean of students Casey Oh edited the undergraduate handbook in response to an unfortunate hallway mishap involving the actor playing Mr. Mistoffelees in the musical theater department's production of Cats that same year.
Junior Alden Worthington expressed his appreciation for the repeal of the old rules.
"I'm so glad!" said Worthington. "There are no words that can describe the way I feel right now. Well, if I had to choose I would probably select fabulous and chic! Or perhaps fabulous and fetch. No – just plain fabulous with maybe a lit-tle bit of fresh in there. Yeah fabulously fresh!"
According to freshman Brighton Fox, "When I originally came to the Academy I was so frightened of getting caught looking even remotely prancing I would practice inside my apartment's walk-in closet keeping my arms perfectly perpendicular to the floor. I looked ridiculous. But now I am free! Free at last! Oh, and do these culottes make my butt look big?"
Dean Oh could not be reached for comment but an anonymous representative from the administration indicated that there is general approval of the policy revision.
"I just hope the change doesn't create any more hallway incidents involving actors wearing velour tails," added the source.
Loafton made a public announcement celebrating the policy change.
"Musical theatre students sacrifice a lot for their discipline," said Loafton, "but they shouldn't have to sacrifice their right to embarrass themselves."
Despite the repeal of Don't Prance, Don't Frolic at the Academy, a cappella covers of Lady Gaga are still strictly forbidden.