by Monty Tufnel
Freelance Writer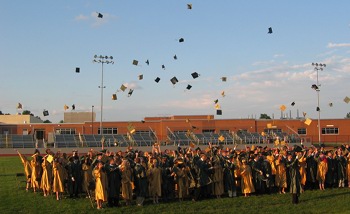 In a shocking development yesterday a group of university presidents from six conferences announced the formation of a Commencement Championship Series (CCS) to create the best possible system to identify the number one ranked school academically in the world.
"U.S. News and World Report rankings are simply not useful anymore for truly identifying the best colleges and universities across the planet," said CCS spokesperson Myra Willowdale in a keynote address for the six presidents from the represented conferences.
The CCS will take a combination of graduation rates, retention rates and students satisfaction survey results to identify the best academic institution. These rates and survey results will be weighted according to each school's affiliation with conferences, an announcement that caused several schools to quickly change conference allegiances.
The six conferences in the CCS are the Ivy, Patriot, Colonial, Northeast, recently re-formed "Little Ivies," and the one-day-old Pious Conference, which was formed when Duke, Stanford, Northwestern, Notre Dame, Cal-Tech and Michigan all banded together to be part of the alliance.
Speaking on behalf of the Pious Presidents, Willowdale said, "They saw an opportunity to do the right thing academically."
This change in affiliation for schools in the Pious League means that 86 of the NCAA varsity sports will now align under the Pious banner. Football and basketball programs, however, will stay with their former conferences.
Needless to say, many university presidents across the country were outraged. A spokesperson for the SEC, Delmas Allgood, released a statement lambasting the CCS, stating, "The whole thing is a sham put up by a slimy cartel interested in only strengthening a recently weakening perception of quality."
The first winner of the CCS will be announced in April, with the top school getting first choice of commencement speaker for their 2012 commencement ceremony.