by Hannah Q. Scott
Freelance Writer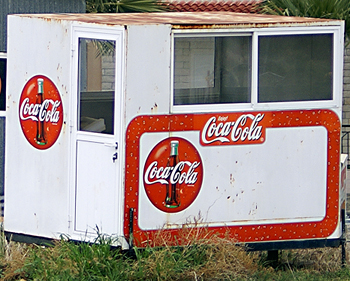 Some colleges have removed Coca-Cola products from dining halls, others have stopped selling big-name sportswear in student stores, but Stanley College has taken these moves to a whole new level.
After divesting from all investments in South Africa during the fight against apartheid in the mid 1980s, and removing Coca-Cola products from all campus venues in the mid-1990s, Stanley is now moving to a new era of a completely anti-corporate existence.
The first major step in the corporate cleansing has been to eliminate all commercial soda machines from campus. According to Director of Dining Services Susan Matthias, "The College has replaced all machines with those new soda stream soda makers that allow you to make your own carbonated beverages."
Associate Director of Facilities for Environmental Initiatives Larry Foley says, "Not only are we no longer giving RC Cola and Polar Beverages our dollars but students must use their own washable container, so we are continuing our move towards a totally carbon-neutral and sustainable campus."
Stanley College has also stopped providing vans for student use, hoping to no longer provide gas companies with college money and eliminating their reliance on giant automakers. As Foley says, "Hopefully our students will continue to use non-polluting and non-corporate ways to get around, such as walking and biking on student-made bamboo bikes."
The college has decided that corporations such as Apple and Dell make too much money off the college market and has thus banned their products on campus.
Assistant Director of Student Affairs for Civility Issues Paula Garten says, "This move will help students actually connect to each other once again instead of relying on corporate-made, money-costing communications tools."
Three years ago, Stanley participated in "A Laptop for Every Student" which gave all incoming freshmen a free MacBook, and now the college is taking those computers back and asking students to write papers longhand.
When questioned about the environmental impact of only using notebook paper for assignments, Foley said, "We had to make a decision about the corporate presence on campus and the gains from the soda stream machines ought to offset the losses in no longer using electronic communication."
Director of Admissions Caroline Graves summed up these new moves, saying, "We are hoping to attract a very specific set of students who are uninterested in giving money to big business and instead hope to return to a simpler time. We are especially interested in recruiting students who have experience in organic gardening and weaving hemp clothing."