by Joanne Richards
Freelance Writer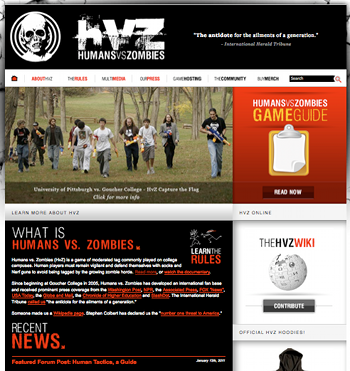 In a shocking investigative report by the BBC World News, Journalist Kristy Carrington revealed the true source behind recent protests in Cairo – a Cairo University Residence Hall Association (CURHA) sponsored 'Humans vs. Zombies' game gone awry.
"We've been planning this event for weeks. We've been seeing the tweets from all over the world about how much fun HvZ is, and we thought it would be fun," said Hassan Hundei, programming chair for CURHA.
Speculation about the cause for the riots has been the focus of international attention for days, with some journalists citing the social networking sites of Facebook and Twitter as being the primary connection point for rioters. Aseel Al-Hadid, director of university residences for Cairo University, partially agreed.
"CURHA decided that in order to effectively communicate the missions, they would tweet the missions and locations with the 'Egypt Riots' hashtag. In hindsight, this probably wasn't a good idea."
"Hey, the hashtag wasn't taken," said Michael Pickell, a United States student studying abroad in Cairo who taught others about the popular HvZ game. "We tried '#RocktheCasbah', but that was too many characters. I mean, we didn't think that tweeting 'Mission 2: Tag President Mubarak' would be taken out of context. Our student body president, Skippy Mubarak, was standing in the center of the Student Union for hours and no one came for him. Poor guy – he missed class and everything!"
Participants in the game said initially they had a great time at the riots, until the police pulled out tear gas.
"I didn't know what was happening," said Bomani Massri, who was a zombie in the game. "I mean, I knew the humans had sock balls and Nerf guns to stun us. When the tear gas came out, that was it – totally unfair. Tear gas is so against the rules. I did learn one thing today. Police are not HvZ referees."
Another student in the game, Femi Sawalha, said, "When we saw the camouflage uniforms on some younger people we just thought Hosoni Hall had gone all out again, like they did at Halloween. You gotta admit, dressing like Egyptian Army soldiers is pretty hard core for HvZ. And those black semi-automatic Nerf guns looked AWESOME."
The United States Embassy is currently seeking reimbursement from CURHA, which boasts a hefty budget surplus thanks to its annual final exam study kit fundraiser, for the government-funded flights chartered to evacuate students studying abroad in Egypt.